October has been busy month to bring you a slew of product updates, many of which came from direct feedback from our customers and users. We welcome your feature requests or feedback; you can send them to info@sofy.ai.
Ability to install and test older builds of the App
When you are in the SOFY Portal, you can now see the build numbers for your app and easily install older builds of the app. This is particularly useful if you want to repro a bug in an older version.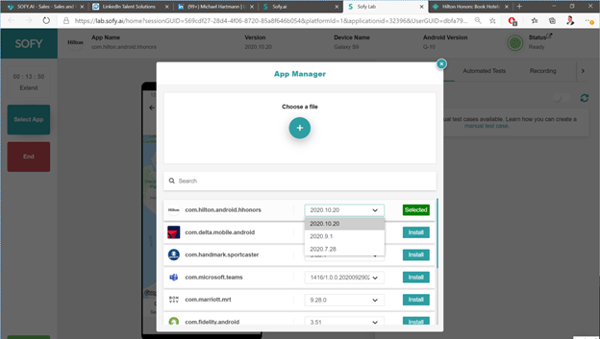 Filter Test Results (Manual or Automated) by App version number
When you are in the Test Results page (either Manual or Automated), you can view Test Results by version number.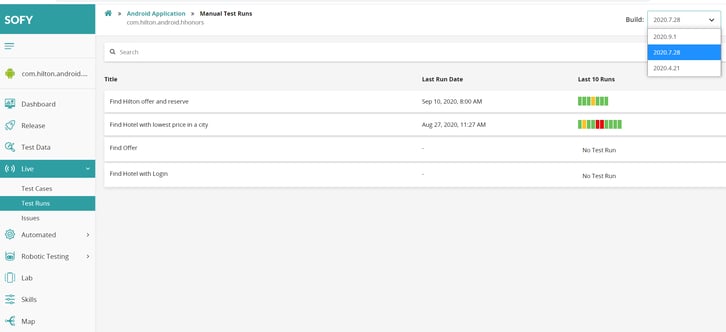 Compare Automated Test Results with Recorded Baseline
You now have the ability to compare the Test Results with Baseline (when it was recorded). You can step through screen by screen to determine any discrepancies between any test run against the recorded version. In the example below, the Test was recorded on a Samsung S9 while the playback was done on a Samsung Tablet.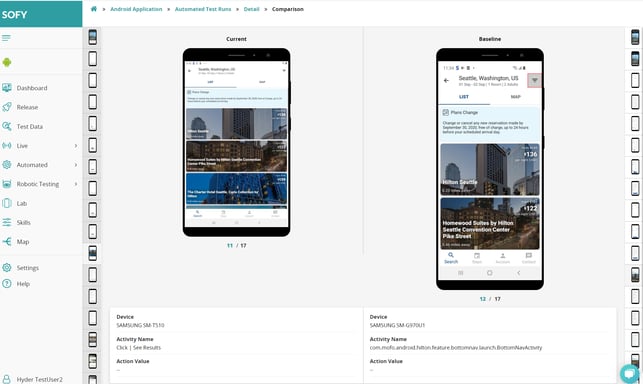 Manually update the Status of an Automated Test Run
After completing an automated test, a tester can manually change the status of the test to from Pass to Fail or vice versa. This is useful in scenarios where a new screen was introduced in the app or if the functionality changes and automated test did not recognise the change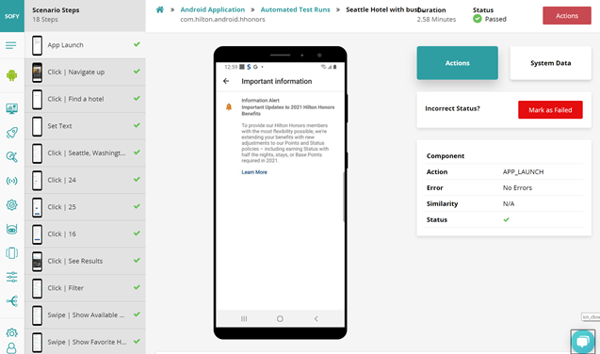 Specify Networking Speed during Testing
You now can set the network speed during manual testing to simulate various real world conditions during manual testing. We have not enabled this feature for automated testing yet. If you have an immediate, please let us know.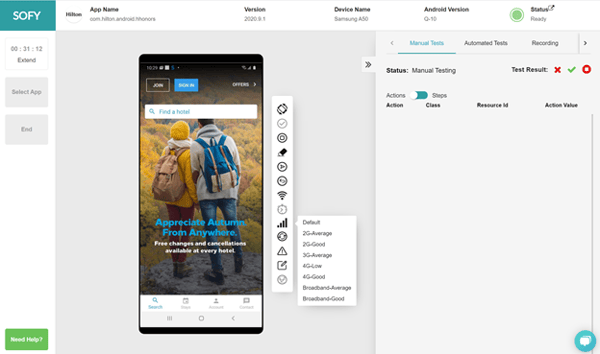 See Manual Test Results within SOFY Portal
After completing a manual test run, you can see the manual test results from within the SOFY Portal by going to the Results tab. Note that you will only see the SOFY Test Results of a manual test that has an associated Test Case. Prior to this update, you had to see the results by navigating to the Dashboard → Live → Test Results.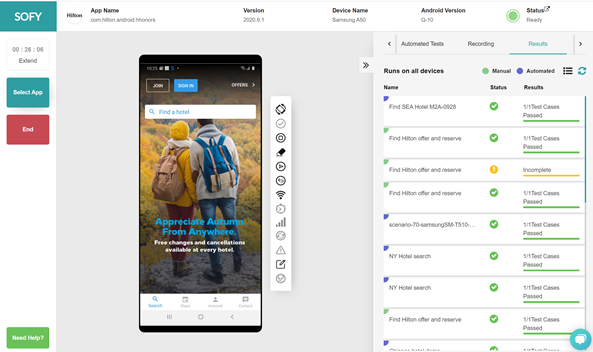 Get instant help inside in the SOFY Portal while you are testing
We have enabled a BOT inside the Portal so you can get instant help from one of our team members if you are stuck for any reason when you are using SOFY .
Rate your experience at the end your session
We value your feedback. We have enabled an option for you to rate your experience feedback at the end of your device session. We look at your feedback daily to determine how to make the product better and more usable.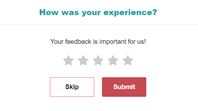 Why not try out these cool new features now!